Nowadays, there are so many Indonesian local beauty brands. Let's compare it to, let's say, two years ago. We all saw within our eyes that the improvement of local beauty brands and the variations of products available grew rapidly. It is not just the quantity of the products that grew but also the quality. It shows how these local brands become more transparent of what they're putting in their products & they actually explain the benefits of them.

In this article, I'm going to review a product from a local brand named Nutrishe. If you're not familiar with that name yet, I'm pretty sure you've heard about their other products that was launched much earlier though. Those are Nutrilash and Nutrihair. Nutrilash is a growth enhancement serum for eyelashes and eyebrows, and Nutrihair is a hair treatment oil to help to maintain the hair's health. And now, they expand to the skincare area with Intensive Bright & Glow Serum* as their first product. I'm going to say that, right off the bat, I fell in love instantly just because of the pretty packaging! Besides, the main ingredients used are so interesting, such as Alpha Arbutin, Brown Seaweed, and Centella Asiatica. The fact that they put the main components on the sticker makes me happy because it makes it easier and it seems like they're being transparent with us.

Anyway, if you want to know more about how this product performs on my skin… please keep on reading!


Kalian bisa baca artikel ini dalam bahasa Indonesia di sini.


Price
IDR169,000 for 30ml.

Packaging
It uses a matte glass bottle with a pipette applicator. The design has a white and nude tone, emphasising the minimalist & pure vibe.

Where to buy




Scent
It has a light and soft, musky, cotton-like scent that is not disturbing at all. I personally love it.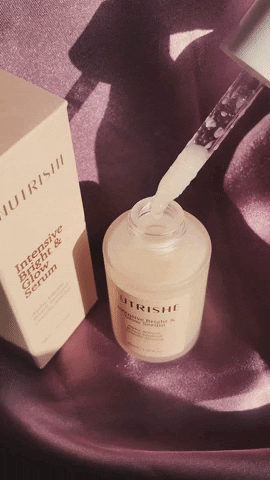 Texture & Finish
This serum is very liquidy/runny and quickly absorbs into the skin. This texture makes you need to use more products, around 8-10 drops for one application. It doesn't leave any tacky nor filmy feelings. It also doesn't give any instant effect, such as mattifying nor glowing.

Ingredients
Aqua,

Cyclopentasiloxane

,

Alpha-Arbutin

, Cystoseira Tamariscifolia Extract,

Ascorbyl Tetraisopalmitate

,

Jania Rubens Extract

,

Lactobacillus Ferment Extract

,

Centella Asiatica Extract

,

Glycyrrhiza Glabra (Licorice) Root Extract

, Dipotassium Glycyrrhizate,

Butylene Glycol

,

Glycerin

,

Sodium PCA

,

Sodium Hyaluronate

, Polyacrylamide,

Phenoxyethanol

,

Allantoin

, C13-14 Alkane, Isoparaffin, Laureth-7,

Fragrance

, Tetrasodium EDTA



Great Ingredient

—

Comedogenic / Fungal Acne Trigger

—

Be Aware





Claims

Contains Alpha Arbutin that helps minimize dark spot, uneven skin, reduce dull skin and brighten the skin • yes, but not that significant (so far)

Infused with Brown Seaweed (algae) extract that contains protein to supply skincell with extra hydration for glowing skin • yes

Centella Asiatica helps to strengthen skin barrier, acne-fighting, hydrating and soothing • yes


Thoughts
It's not that I didn't believe in this product, but I just didn't expect it to works this well on my skin! So, when I first started using this serum, I just had a breakout from trying out a new product. The kind of breakout that happened to me that time wasn't about getting inflamed acne, but getting tiny bumps that look like clogged pores. I don't usually get this kind of breakout, but when I do, it typically because of the lack of hydration supplied into my skin. Unfortunately, this time it happens because of the product I was trying before this serum didn't work well on my skin.

Anyway, even though these tiny bumps happened because of the reaction of a new product, I know that hydration is still the foremost key to heal my skin condition. From the first time I used this product, I could feel that this serum gives a lot of hydration to the skin. I guess this kind of serum would work on pretty much every skin types, especially on people who has oilier skin and/or deal with dehydration of the skin. And guess what? It's true! After using this serum for around two weeks, I can see my skin healed. The tiny bumps are now gone, my skin barrier is soothed, and the skin looks healthier!

Another claim of this product is that it can help evening out the skin tone and fading dark spots, whether it sunspots or post-acne spots. In the two weeks of using, I don't see it works significantly in that aspect but, yes, there IS a difference. Even though it doesn't work that much in such a short period, I feel like the dark spots on my skin get a bit faded. I'm pretty sure if I keep on using this product, I can see more improvement in my skin. Of course, it still needs to be supported with the other skincare products. I'll keep on using this serum and give the update through my Instagram if there's any.

By the way, the fact that it gives a difference, though just a little, in only two weeks is already incredible, at least for me personally. Because if I think about my experiences using other skincare products that I've tried before, they rarely gave such improvement in a short time. It totally makes sense, though, because the main brightening ingredients in this product are alpha-arbutin & vitamin C. The addition of other components also promises such great results for the health of the skin, so I think it's safe to say that this product is worth every penny!


Suitable for
It suits every skin types, especially people who usually have trouble with dehydration of the skin or weaker skin barrier. If you're dealing with fungal acne, I suggest you consult to doctor before trying this product.



Pros

+ it gives significant hydration and strengthening the skin barrier

+ the ingredients used are appealing and have so many benefits

+ a local product

+ has a subtle, soothing aroma

+ has a beautiful packaging

+ affordable, remembering the results it gives




Cons

- the texture is very runny that you need a lot more amount of the product. NBD, since it's affordable




Overall rating

5/5


DISCLAIMER: I'm not a doctor, chemist, nor an expert. I mark the ingredients as green, yellow, or red based on Skincarisma and/or my own knowledge, and probably biased by my preference. Please also note that some ingredients can be both good and bad depends on your skin type and preference. I tell this product is suitable for people who I THINK would suit it. I do this to make it easier for newbies. Please do your own research too and find which ingredients suit (or don't work well on-) your skin!

*gifted
Product was gifted by the brand, but it doesn't change my honest opinion about the product.
**affiliated link
By buying the product through this link, you are supporting me as a creator as I get a little commission.
PR & collab friendly, please contact me through e-mail or Instagram DM